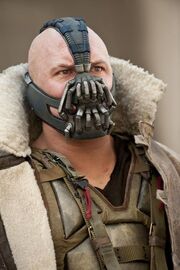 ''When Gotham is in ashes, you have my permission to dieEdit
Bane is a terrorist that comes to gotham with intent on destroying it. He wears a mask that pumps gas into his system and makes him impervious to pain.
Biography
Edit
Little is known about Bane. He was born in prison and trained in the darkest forms of deception by the League of Shadows, but rumor has it he was cast out due to his extreme behavior. Bane is a ferocious hand-to-hand fighter who is willing to do anything in order to take down his opponents. Bane is in peak physical shape, but he must wear a breathing apparatus that feeds him with pain relieving gas due to an old injury. He's never been photographed without his mask and only a handful of people have seen his face. While his true motives remain a mystery, he appears to be building an army of followers in the dark tunnels underneath Gotham in order to create his own League of Shadows.